SOLD OUT FOR THE 2018 SEASON! Until next year.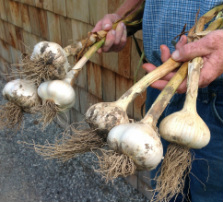 MAJOR seed supplier in Western New York

ANNUAL attendee of the Garlic School at Cornell University
Cooperative Extension

OVER 7 MILES of garlic rows with over 100,000 SETS
planted for the 2016 season

NEMATODE FREE

---
About us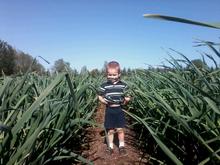 Sweden Center Garlic Farm
, formerly J&J farms, is located in western New York on 20 acres of pristine land on White Road in the Town of Sweden.
Started over 20 years ago with a handful of garlic cloves from a family member, the Sweden Center Garlic Farm has grown into one of the largest garlic farms in Western NY.
Their homegrown German White Garlic is grown in
USA soil
and is the largest German White around.
It has won
"The Great Garlic Bulb Contest"
for six straight years which is held annually at the Cuba Garlic Festival in Cuba, New York.
---
The Great Garlic Bulb Contest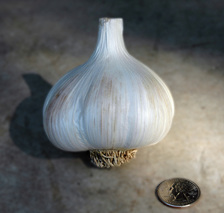 From the Cuba Garlic Festival's Web Site, The Great Garlic Bulb Contest is for garlic growers. The garlic bulb has to be grown by the garlic grower entering it.

The top three winning entries will be based on diameter, weight, and overall appearance. Overall Appearance is determined by the following criteria:



A. Mold, mildew, pest, or disease (do not want these present)

B. Heaviness and firmness of bulb (do not want a lot of dehydration)

C. Tightness of wrappers (means cured and stored properly)

D. Number of wrappers after cleaning (the more wrappers left on the longer the shelf life)

E. Clean wrappers (stained wrappers mean too much wetness during harvest)

F. Cloves intact around the stem (not intact means over-mature and susceptible to poor hygiene and
shorter shelf life)

G. Stem and root trimmed neatly (promotes good hygiene and shelf life)

---